Impessionism
Sort of a Pointalistic Impressioistic Style
The IMPRESSIONNISTS
Years ago after the primitive art captures, it was fashionable to paint extremely realistic documenting history and portraits in a traditional style in the studio. In Europe they had the prestigious Salon and Academy that monitered the pulse and style that they thought was revelant. A group of young artists in 1874, opposed to the authority of the Salon and the Academy , decided to show their work directly to the public in an exhibition which they organized themselves. Their work was in a new style. The artists forming the core of this group - Pissaro, Degas , Sisley, Ce'zanne, Monet , Renoir and Morisot- came to known as " the Impressionists." Painting new subjects out side capturing the landscapes. They were imeddiatly identified as the avant -garde and their first exhibition became an historic landmark in the developement of modern art. We now tend to see the landscapes of impressionist paintings as perfect images of nature. However when first viewed they were considered startling and freagmented at the time that they were painted.
These artists personally struggled and took large risks breaking the traditional means of representing the world. We should all follow suit and follow our heart to seek the truth of our own spiritually.
Our gift to the universe is the vision of how we see it , your gift is how each one responds to the truth .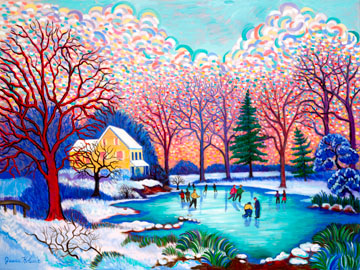 32x40 oil on canvas original,$6,000.
Color against color creates a special energy, that collectors have expierenced magiical beneifits...
At the moment one needs to wrap around themselves in a positive healing energy .

You may commision Jessica to capture that special place of yours in the Naive Impressionistic Style.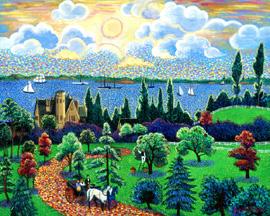 The Apple picker 24x30 oil sold $6,000.00
The Apple Picker, A fine art giclee' print on canvas

12x15 inch canvas giclee' on(11/2 inch bars, Gallery wrap)--------------------$195.00
16x20 inch canvas giclee' on (3/4 inch stretcher bars)ready for framing---$195.00
24x30 inch canvas giclee'on (3/4 inch stretcher bars) ready for framing---$400.00
32x40 inch canvas giclee'on (3/4inch stretcher bars) ready for framing ---$700.00

My inspiration for these impressionictic painitings.

My inspiration for these impressionistic paintings started with the admiration of the loose -knit group of artists called the Fauves ("wild beasts"). Fauve imerged from 1904 to 1918. Fauve activity revolved around Henri Matisse, Andre' Derain, Mauricede Vlaminck, Manguin, Marquet, and Puy. Linked more by friendship, they did share a preference for high keyed color and simplified forms. The Fauves frequently explored the same sites together, some times side by side. Their search for subjects took then from diverse images -seascapes, riverscapes, townscapes, and cityscapes. Within these years there was a shift from their use of primary and secondary colors applied in small patches of color against color, more nature-based range of colors and large, almost abstract masses of form.
What I liked most was the energy created while putting color against color.

Inspired by the color against color creating a special energy, I dove into this bold style of painting.
I didn't see the land scape, I felt the landsacpe.
Color against color brushstroke against brushstroke creating energy beckoning the viewer to step into this magical field of color. The public embraced these paintings, escaping from their worlds into mine. It is interesting while in a recession or a global battering, viewers really are drawn to this group. I long to do more of these.
My little girl spirit is calling me back.