Painting Art Workshops, With Wine Design And Fun
Great for hotels and groups as an added entertainment benefit for your guests that you can offer . You can pair this with WineTasting and a Tuscan Lunch that will make your guests feel very special.
Jessica's Studio in Mt. Branson my accomidate smaller groups.
The Original Oil Painting Work Shop Class
So you want to get serious and really learn how to oil paint., landscapes , still lifes, and portraits.
Classes are held at Jessicas real working artist studio in Branson. It is a 3 hour session at $30.00
a week taught by artist Jessica Kolesar. I encourage you to paint what you are excited about. Students learn from the varied techniques
that are applied in each situation.
We all have fun and learn.
I will be holding a two day pet portrait work shop coming up at $120.00. If interested let me know
Acrylic paint , canvas, esals, brushes and paper towels,
will arrive with artist Jessica Kolesar, your instructor.
The art workshop is designed for you to leave with a finished
painting
in 3 hours. Subject matter is your choice on my web site.
Any
other subject matter must be worked out in advance, 3 weeks.
The painting size is a 11x14 inch flat canvas panel easy to take home.
The cost per person for the Art Workshop is $60.00. Your catering can ad on for the Wine Tasting and Tuscan lunch.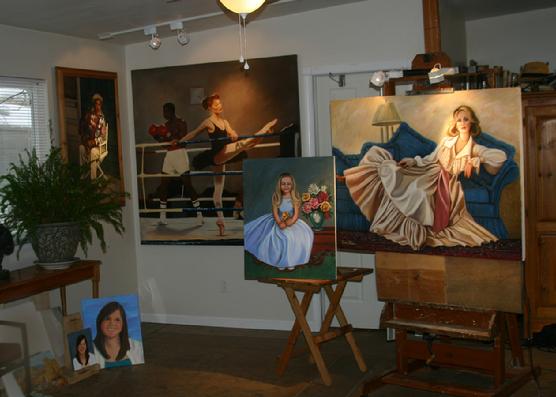 Jessica's Art Studio in Branson